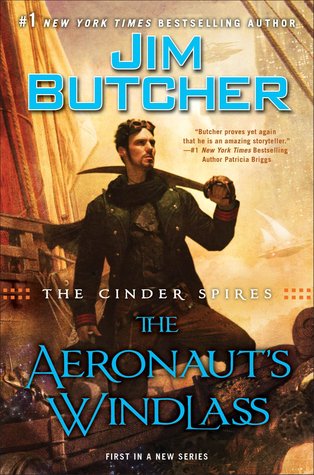 Book Review: The Aeronaut's Windlass (Cinder Spires #1) by Jim Butcher
Four Stars
"[The universe] reflects a great deal more of yourself to your senses than you probably know."
Not your typical post-apocalyptic steampunk space opera. Not at all. Better that the Dresden series  which made Butcher famous. The tone follows Sanderson's Mistborn series, with a philosophic nod to C. S. Lewis' essay "Transposition." But not as derivative as this implies. A rich, engaging plot.
"Truth does not become untruth because its existence upsets [someone]."
Rich cast of fully developed characters, not all what they appeared to others or even to themselves: Rothfuss's Aurie, Horatio Hornblower, Honor Harrington, Miss Manners, the Baker Street irregulars, and Garfield. All with a twist.
"Politics is the purview of scoundrels, tyrants and fools … I prefer not to become their victim."
Excellent climax and closing, so rare among the kick-off volumes of many modern series.
"…the kind of man … that made coincidences happen, rather than letting them happen to him."
Nice, if misleading, cover art.
"Why fight, if not to protect others?"