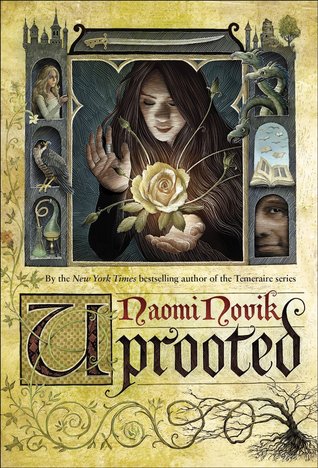 Book Review: Uprooted by Naomi Novik
An extraordinary tale from a capable storyteller. Excellent feeling of time and place, even though it is foreign to everything we think we know. Well constructed and well told.
Novik dramatizes how both the official and folk records of history often differ from what really happened. People then adopt their preferred mix of "facts." Such a choice requires humility and caution in acting on our choice of reality.
Only two criticisms. (One involves a spoiler; so stop here if you don't want your fun spoiled. In fact, if you know what you're looking for, there's a spoiler in the cover illustration.)
First, for a book that would otherwise be an outstanding choice for young adult readers there's an unnecessarily graphic sex scene, which contributes nothing to the story. Second, the heroine's final victory over evil isn't. Yes, we'd received hints throughout the story that she was going over to the Green side—in fact, that she'd been sympathetic with it throughout the story—and that the bad guys weren't really, despite their long and total campaign against humanity. Still, this reader was left feeling slightly cheated. It's a good ending, it's just not satisfying. Judge for yourself.
Nice cover art.
If you like medieval swords-and-sorcery fantasy, do read it. Definite twist on the genre.